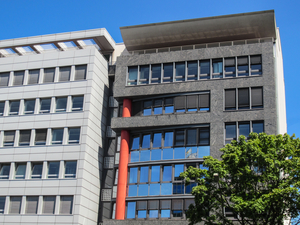 When it comes to energy efficiency in commercial buildings, a common phrase used is "sealing the building envelope"–essentially minimizing the potential for energy loss from the building.
Sealing the building envelope is important for two primary reasons:  First, it helps lower energy demand and lower utility bills, saving money. Second, it reduces the building's carbon footprint and lessens the environmental impact.
Air can leak in and out of buildings through a variety of ways, including hole and cracks in walls, floors, ceilings and exterior walls. Experts estimate that 5%-40% of a building's heat and cooling costs are lost through air leaks (Buildipedia.com).
There are two types of air leaks:  direct and indirect. Direct leaks are the obvious ones, like a crack around a door or a gap in a window frame that allow air in and out. Indirect leaks are more difficult to find but equally costly. This can include leaks such as cold air being pulled up into an attic through plugs and switch plates.
To minimize air leaks, sealing is the best option. Check the exterior of the building for anywhere that pipes enter and make sure there is caulking or some sealant to prevent air leaks. When it comes to windows, there are options that include caulking, films or replacement windows, but for a lower cost, longer lasting option with a quick energy cost ROI, supplemental windows are a smart choice. It's important to research all options to find the one that will provide the best energy savings and is an affordable option.
Supplemental windows install on the inside of your existing windows and can be installed quickly and with little-to-no disruption to daily business operations. Contact Thermolite today to speak to one of our experts about sealing your building envelope with an energy and cost saving Thermolite Window System.