Thermolite has been a leading innovator in secondary interior window systems since 1979. Although our main focus is working with a variety of industries to improve their building performance through interior window retrofits, our services are not limited to the providing and installation of our window systems. Our overall goal is to make buildings as efficient as they can be, with as minimal expense as possible. This is why Thermolite provides additional services to eliminate the guesswork and help determine a building's precise needs in order to develop a customized solution:
Thermal Imaging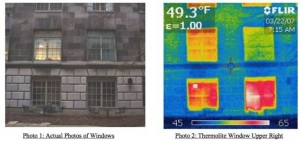 With our thermal imaging service, we examine the existing measurements and material of a building and create a 3D model to determine our recommendations for which of our window systems would be  the best for the building's performance requirements.
We then install a "mock-up" of our product next to an existing window, and take a thermal image using THERM 7.0, a state-of-the-art computer program program developed at Lawrence Berkeley National Laboratory (LBNL) that models two-dimensional heat-transfer effects in building components, such as windows. Upon viewing the heat-transfer analysis, Thermolite can estimate the expected savings and other cost benefits for the customer.
Energy Modeling
Our energy modeling service takes the matter of estimating cost benefits to the next level. We use the latest window design software WINDOWS 6.3, developed in concert between the Department of Energy and Lawrence Berkeley National Laboratories, in order to simulate a building's projected energy use throughout the year. We can then predict the monthly energy savings that could occur if the existing glass was configured by Thermolite's secondary window systems to produce the desired R Value, U Value, Solar Heat Gain and Visible Light Transmittance.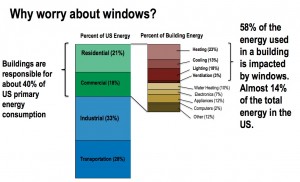 If you're interested in learning more about the services Thermolite offers, or would like to know more about our secondary interior window systems, please contact us today to receive more information.