Bomb blast windows offer protection for buildings that are high profile targets for terrorist attacks, including government and military facilities. In general, bomb blast protective measures – especially blast resistant windows – must be integrated into the architectural design of the building.
Bomb blast windows not only serve to protect the lives of people inside a facility in the case of an explosion, but also the valuable infrastructure and assets of the building and its material contents. This case study provides an overview of Thermolite's patented retrofit blast window system, which meets and exceeds General Services Administration (GSA) and Department of Defense (DOD) blast level requirements, and can be installed for a fraction of the cost of conventional blast windows.
Customizing a Bomb Blast Window System to Meet Particular Needs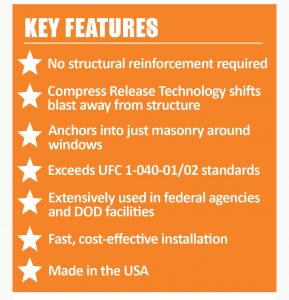 Designing an efficient bomb blast window system requires a detailed assessment of a building's particular weaknesses and vulnerabilities, including its risk factors for potential security threats.
To best mitigate the threat of injury and damage from a terrorist explosion, Thermolite conducts a thorough assessment that evaluates a building's risk for both short-distance and long-distance bomb attacks that incorporates important variables such as stand-off distance, charge weight and angle of incidence.
Other important factors to consider include the size of the building's existing window glass, the depth of the frame, the materials in the walls, and how the window is attached to the building.
Given that each building is unique in terms of its particular weaknesses and risk factors, Thermolite offers an extensive range of bomb blast windows and curtain wall solutions, including fully customizable systems developed specifically to provide safety and protection for any building or facility.
Patented Compression Release Technology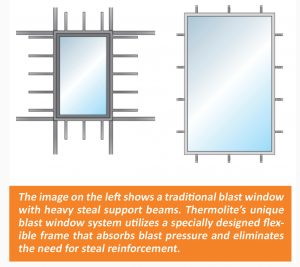 Thermolite's blast window retrofit is the only system made in the United States that uses dynamic loading to prevent glass from shattering into the building. Its balanced design and Compression Release Technology enables the system to withstand high pressure impact without the need for structural steel reinforcement. This type of unique approach addresses a variety of factors, including 1) the forces applied to window on glass, 2) how glass force is transferred to frame, and 3) how blast energy is transferred to the wall, floor, and ceiling structure of building.
While blast windows require strong glass that doesn't easily penetrate upon a force, even heavy glass is ineffective if not properly secured. Conventional blast window designs include a combination of strong glass and structural steel reinforcement around the window frames. In these systems, a heavy blast glazing on the glass acts as a rigid body that transfers the blast pressure impulse to the steal frame.
Thermolite's advanced Compression Release Technology eliminates the need for expensive heavy structural framing. Instead of utilizing a fixed steal window frame, Thermolite's blast windows feature a patented frame design that absorbs the last pressure transfer until the negative phase of the blast pressure wave occurs.
More Effective than Blast Film
After the 9/11 attacks, many U.S. Embassies installed a simple blast film over its existing windows. Although initially inexpensive, the life-cycle cost of the film proved greater than the cost of replacement windows, as exposure to UV light causes the film to deteriorate at unpredictble rates. Due to its unknown lifespan and the need to repeat film applications every few years, in 2007 the UFC prohibited the use of blast film on any windows or doors in a DoD building.
Thermolite's retrofit blast window systems not only provide DoD-approved bomb blast protection at a cost comparable to blast film, but also one that requires a single installation, lasts a lifetime and meets UFC Anti-Terrorism Standards.
Security Windows for Federal Banks
Federal banking buildings maintain a unique set of challenges in regard to their window systems. Government mandates require federal banking facilities to follow both safety and energy performance protocols, while historical preservation guidelines prohibit changes to the appearance of the windows. Thermolite has helped numerous federal banking buildings comply with strict security, energy efficiency, and historical integrity guidelines, including Washington, D.C.'s Lafayette Building and the Marriner S. Eccles Federal Reserve Board Building, the Federal Reserve Bank of Philadelphia, and the Federal Reserve Banking Annex Building.
While exact product installation details are confidential, Thermolite provided these facilities with a cost-effective solution to improve both the security and energy efficiency of their windows without disrupting building operations or altering the exterior windows in a way that would violate historical preservation guidelines.
Blast Report for the Department of Interior Facility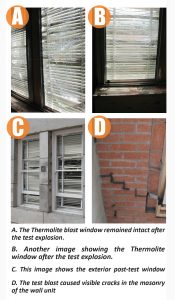 In August of 2011, Thermolite contracted with an independent engineering firm to conduct an official blast test report for the U.S. Department of Interior regarding the effectiveness of Thermolite's blast resistant window system.
To maintain variables, the firm constructed a replica test site using the same materials that were used to build the Department of Interior facility, including identical ratios of brick to mortar, concrete masonry anchors and encased steal beam reinforcements above the windows. The test took place in a deserted area of New Mexico. A 600-pound ANFO explosive charge was detonated at an undisclosed distance from a test wall that had been fitted with Thermolite's interior blast resistant window system. The test reported that the internal window cracked, but retained in the frame and emitted no glass inside the structure other than a slight dusting. There were no indentations, penetrations or marks on the witness panel, and no glass fragments were found inside the structure with a united dimension of 1-inch or greater.
Thermolite's blast window system performed at Condition 2 — the second highest performance standard for blast windows set by the U.S. General Services Administration.
Conclusion: Better Blast Protection at a Lower Cost
Thermolite's unique dynamic blast windows result in a lower total project cost and a much faster installation time than traditional blast systems. Unlike traditional blast window retrofit products, the Thermolite system is installed on the interior of existing windows, eliminating the costly need to tear out the wall and place steel support beams inside the window frame. The entire system only takes one to two hours to install and meet and exceeds GSA and DOD blast level requirements.
In comparison to conventional exterior blast windows, Thermolite's interior retrofit blast window systems are more cost-effective, yield a higher ROI, and require a shorter, less invasive installation process — all while providing the highest level of security possible and the most exceptional energy performance in the industry today. Installation can even be performed discreetly during hours that are convenient for you.

---