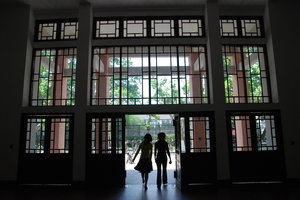 Many educational institutions are stunning architectural buildings and have strong historical ties to the institution and its community. But many of these buildings are rapidly aging and colleges and universities are realizing these beautiful buildings are virtual energy resource money pits.
The energy use in schools across the U.S. is a big issue–so big, that a national campaign to reduce energy use on campuses was created. Between February 6 and April 23, 2012, students on campuses across the U.S. are competing to reduce electricity and water use in their residence halls over a three-week period. The contest is called Campus Conservation Nationals (CCN) and over 100 colleges registered for the competition at www.CompeteToReduce.org.
Participating dorms computer against other school buildings on their own campuses and can also choose to compete against schools as well. The overall goal of the competition is to save one gigawatt-hour of electricity.
The competition was created by the Alliance to Save Energy and it partnered with Lucid Design Group, the Center for Green Schools at the U.S. Green Building Council (USBGC) and the National Wildlife Federation
Aside from environmental and economic benefits, the competition serves as a learning opportunity as well. Students discover the environmental and economic costs of energy consumption and can become advocates for energy consumption.
While the students compete by finding ways to cut energy costs, the schools are undoubtedly looking for ways to reduce the economic and environmental impact of buildings across their campuses.
The Thermolite Window System is an alternative to upgrading inefficient HVAC systems or replacing windows that have architectural significance to the campus. Contact us now to see how Thermolite's patented supplemental window systems will provide your campus with an immediate energy ROI.x