Curtain wall no longer has to be a long, drawn-out project. Thermolite has now made it possible to complete a commercial curtain wall system installation in approximately two weeks. We developed the RetroWAL™ Express program as a solution for curtain wall projects that require a quick turnaround. Glazers, general contractors, and even building owners and tenants can skip the middlemen and accompanying delays and install the curtain wall system themselves.
When we say that a curtain wall installation can be completed within two to three weeks, that doesn't simply mean the physical installation – it includes the time from ordering and receiving the materials to the completed installation.
How is this possible? Unlike most commercial curtain wall systems, RetroWAL™ does not require specialized tools to install. In fact, our RetroWAL™ product is the world's first Do It Yourself (DIY) commercial curtain wall system. Installation can be performed either in-house or through the use of a local contractor and our installation kit provides you with the basic tools you need.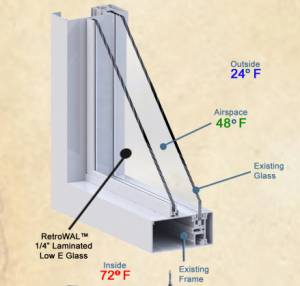 The process is simple:
  Measure existing windows – view measuring instructions
  Order materials – complete order form and submit via email: sales@retrowal.com or   fax: (574) 234-4005
  Install in 10 minutes – all that is required is a 3m glass cup and Bosch laser ruler        (included)
Available in curtain wall, storefront, and window wall
Additional Options:
  Between Glass Blinds
  Thermally Improved Composite Cap
RetroWAL™ Express is an ideal solution for general contractors, glass and glazing contractors, and tenants who wish to improve energy performance, sound control, security, and more to existing windows in a quick and affordable manner. Learn more about the benefits of RetroWAL™ – contact us today!
For pricing, please contact: sales@retrowal.com or call (574) 234-4004.