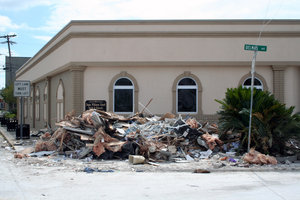 Hurricane season is almost upon us and with the unpredictability that hurricanes can bring–heavy rains, damaging winds–it's critical that the infrastructure of buildings in areas affected by hurricanes are able to withstand the winds.
While boarding up and covering windows can be an option for one-story buildings, the time, labor and logistics of boarding up offices, historical buildings and retail storefronts may not be a feasible option.
When windows break from hurricane winds, the entire structure of the building can be compromised. Once wind has broken the building envelope, the air pressure changes and this can cause collapse and extensive damage.
Acts of nature can be swift and devastating, but buildings using windows with hurricane reinforcement are much better protected and prepared to withstand these violent storms. The Thermolite Window System has patented technology that protects against the force of hurricane winds, bomb blast and also saves money on energy expenses.
Contact Thermolite today for more information on how to protect your building from unpredictable, damaging and deadly hurricane winds.