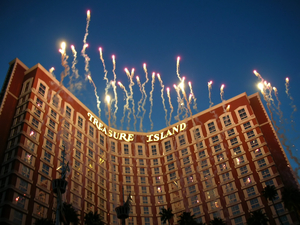 Temps are soaring all over the country right now, and hotel managers and owners are feeling the burn. Keeping rooms cool–especially those rooms that are vacant–is a cost many wish they could avoid.
It's considered one of the "costs of doing business" but it's an expensive that can vary wildly, depending on the weather. If you're currently pondering ways to keep costs in control and are considering some HVAC upgrades or replacement windows, there are a few things to keep in mind.
Upgrading an HVAC system sounds like a good plan; a more efficient system could bring energy costs down. Replacing windows is another option as well, but there are downsides, especially interruption in business during installation.
In a hot travel market like Las Vegas, Nevada, it's especially important to provide cool comfortable rooms for guests. To see exactly how much potential hot air could be making its way into your rooms and raising your energy bills, see the following three photos, taken during a Thermolite thermal imaging study.
In the following three photos of prominent Las Vegas casino hotels, the facades with the most blue and green show air conditioning leaking out of windows–these hotels are essentially paying to cool the air outside the hotel. While an HVAC upgrade could help these hotels, supplemental windows to seal the building envelope would be a more economical solution to the problem.
The Thermolite Window System will seal the building envelope and lower the cost of cooling rooms in the the hottest climates–but also provides noise reduction–the Thermolite Window System has an STC rating of 49. Contact us now to see why our hotel clients are seeing industry leading energy cost ROI and better sound reduction in their properties.