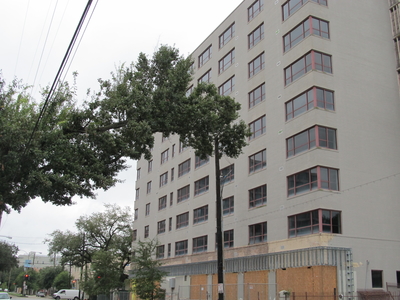 Hurricane Isaac wreaked havoc upon southern states late this summer, laying waste to homes and businesses and like Hurricane Katrina in 2005, the New Orleans area really took a beating. Hurricanes and hurricane winds can decimate buildings by lifting roofs, imploding windows and changing the air pressure in a building.
In early 2012, the Indigo Garden District Hotel in New Orleans chose Thermolite to install a supplemental window system to reduce noise and provide energy savings.
Thermolite was in New Orleans recently to oversee the final stages of the project and was able to capture some photos comparing the Indigo Hotel building with an adjacent building. Both buildings had similar windows made of single pane glass and the buildings had a similar construction.
As you can see on the adjacent building (with boarded-up windows), the windows were blown out not from impacts but from pressure differential in the building.
The Indigo's windows remained intact because the Thermolite Hurricane Window System minimizes airflow from through the window opening as well as protects against impact with laminated glass.
The hospitality industry and hotels in particular are faced with a two-fold challenge:  make guest rooms comfortable but maintain a healthy profit margin. When there are inefficient windows in rooms, the thermostat gets used a lot more to regulate temperature–and there is always the noise issue. Whether your facility is in an urban area, near construction or just needs to reduce overall noise exposure, the Thermolite Window System is the solution. With an STC rating of 49, Thermolite's windows provides outstanding noise mitigation, energy savings and provides a more comfortable environment.
Contact Thermolite today for information on noise mitigation and securing your windows with the Thermolite Window System.