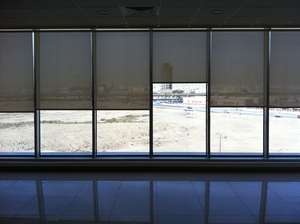 So, your business has decided it's time to do something about your skyrocketing heat and air conditioning bills. Hopefully you've completed a thermal imaging study and understand in dollars and cents, what energy loss through your windows is costing you each month.
There is a heatwave across the U.S. right now and with temps reaching well in to the 90's and beyond in northern parts of the country, the cost to cool hot office buildings is increasing–as well as the environmental impact from the extra energy needed to keep these buildings cool.
A logical consideration for long-term management of rising energy costs is replacement windows. Windows are a primary source for heat loss in the winter and heat gain in the summer and if the windows aren't efficient, the building envelope is open and your HVAC system has to work harder to keep up with demand (resulting in higher energy costs).
Most window replacement companies will sell businesses on the energy ROI, but what many businesses don't understand is how long it can really take to recoup the window investment. Some estimates state that it could take upwards of 50 years of energy savings to see a full return on the investment. (History.Utah.gov)
Supplemental windows are a more recent alternative to traditional window replacement and offer three major advantages to replacement windows:
1. Maintain current architectural integrity – supplemental windows are used on the inside of existing windows to seal the building envelope but don't change the look of your building, which is especially important for historical credits.
2. Sound mitigation – supplemental windows can provide noise reduction benefits in addition to energy savings, which is an added benefit to buildings where confidential information or maintaining low noise levels is important.
3. Quicker energy cost ROI – supplemental windows are less expensive than traditional windows but can often provide better energy efficiency.
The most important lesson is to make sure you thoroughly research all options to find what will provide the best energy return on investment for your upgrade. If you're considering supplemental windows, the Thermolite Window System is a patented supplemental window system that provides industry-leading energy cost ROI. Contact us today to learn more about energy savings and faster ROI with Thermolite supplemental windows.