Thermolite has developed a window system that not only insulates and reduces air infiltration but also generates electricity through the Photovoltaic Process. To say we are excited about this product is an understatement! The challenge that the BIPV (building integrated photovoltaics) technology in tall office buildings in metropolitan areas has been the limited roof space. Our technology can be applied to the east, south, and west facing glass walls of the building and increase surface areas 100 fold compared to roof mounted office buildings. See the other reasons why you should be looking at this technology to bring your building into the clean energy economy.
1. Load Reduction: The amount of electric power delivered along the entire circuit or between specific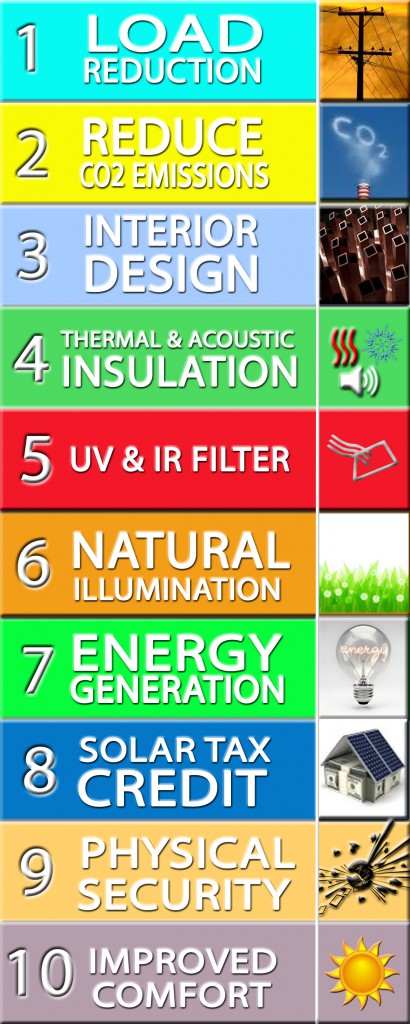 points on the system is measured in kilowatts and referred to as the "Load". This load will be significantly reduced, in turn offering substantial savings.
2. Reduce CO2 Emissions: Electricity and heat generation is the economic sector that produces the largest amount of man-made carbon dioxide emissions therefore upsetting the natural balance of the atmosphere.
3. Interior Design: Windows install from the inside of the existing frame making the installation process quick and easy.
4. Thermal & Acoustic Insulation: Reduces energy costs by 20% and reduces street noise 50% to 80%.
5. UV & IR Filter: Acts as a filter for harmful and heat causing ultraviolet and infrared light rays.
6. Natural Illumination: Allows natural light to show through.
7. Energy Generation: Creating electric power through solar panels.
8. Solar Tax Credit: This is a 30% federal tax credit that is a dollar-for-dollar reduction in the income taxes that a person or company claiming the credit would otherwise pay the federal government.
9. Physical Security: Provides patented protection against bomb blast, hurricane winds and spying through its signal defense technology.
10. Improved Comfort: Achieving overall improved thermal comfort by regulating heating and cooling.
---