When looking for an efficient energy saving option for windows, you may be a bit overwhelmed by all of the technical terminology used to describe just such an option. Understanding the dynamics and purpose of a low-E glass will help clear this up for you.
Ultraviolet light is the light that can cause interior materials such as fabrics, carpeting and wall coverings to fade.
Visible light is defined as the wavelengths that are visible to most human eyes.
Infrared light is one type of light that is invisible to the human eye but transfers as heat into a building.
So what is Low E Glass? Low E glass stands for low emissivity glass. This glass varies from normal clear glass in that one side of the glass has a special metal coating, technically known as a low emissivity, or Low E. coating. Low-E glass is a type of insulating glass, which increases the energy efficiency of windows by reducing the transfer of heat or cold through glass.
Low E coatings have been developed to minimize the amount of ultraviolet and infrared light that can pass through glass without compromising the amount visible light that is transmitted. Low E coatings play an important role in the overall performance of a window and can significantly affect the overall heating, lighting and cooling costs of a building.
There are two types of low E coatings: Hard and Soft
Hard coat Low E coating is a metallic oxide which is bonded to the glass while it is in a semi-molten state, the result is a baked-on surface layer that is quite hard and very durable.
Soft coat Low E, or sputter coating, is applied in multiple layers of optically transparent silver sandwiched between layers of metal oxide in a vacuum chamber. This process provides the highest level of performance and a nearly invisible coating.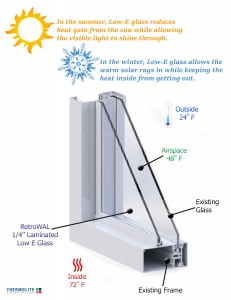 ---