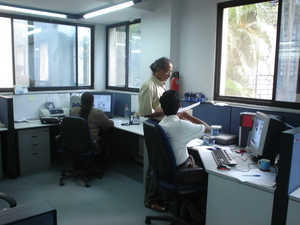 While the heatwave may be over for many parts of the U.S., workplace productivity could be cooling. According to some experts, the temperature and humidity in the office could be costing you more than just utility expenses–you could be losing productivity from your employees.
According to the website Business & Legal Resources, "an overly warm office can lead to sleepiness, a drop in performance and greater opportunity for mistakes" (June 29, 2012).
The same report revealed that overly cool temps can lead to restlessness, reduced alertness and decreased concentration.
The American Society of Heating Refrigeration and Air Conditioning Engineers (ASHRAE) has developed some guidelines for indoor workplace temps that include the following:
An average range from 73 to 79 degrees Fahrenheit in summer
An average range from 68 to 745. degrees in winter
Relative humidity between 30 and 70 percent
The difficulty in this is accommodating everyone; some people are comfortable at 75 degrees, while some are hot and some are cold. The key to creating a comfortable environment is an open dialogue about office temps and being flexible with employees to keep everyone comfortable and on task.
One of the most challenging aspects of trying to keep temps ideal is the cost involved in utility expenses. Energy costs are one of the biggest expenses to businesses, so balancing energy costs and office comfort can be difficult.
When looking for ways to save money, many businesses fail to consider commercial supplemental windows, which install on the inside of existing windows and provide a significant cost savings over window replacements. These energy windows cost a fraction of traditional window replacements and provide immediate energy cost return on investment.
If you would like information on how supplemental windows can provide energy savings in your building, contact Thermolite today. Our window energy experts are available to discuss your current situation and the Thermolite Window System that is right for you.